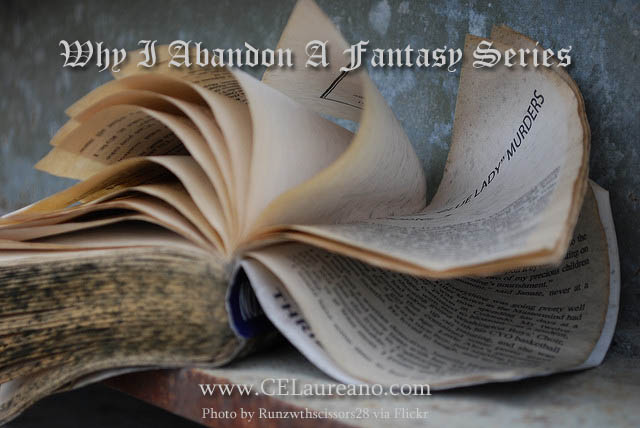 Confession time, courtesy of Season 4 of Game of Thrones, otherwise known as "the part of the story I don't remember very well or didn't read at all"–I am a fantasy series abandoner.
I know a lot of readers who, once they've invested themselves in the first book or two of a series, will hang on until the bitter end. But I'm not one of those. My reading time is too limited to waste on something that doesn't absolutely knock my socks off, or didn't deliver on its promises on the first, second, or third book.
Cases in point:
1) Robert Jordan's Wheel of Time – quit after Book 7: A Crown of Swords
2) Terry Goodkind's The Sword of Truth – quit after Book 6: Faith of the Fallen
3) George R. R. Martin's Song of Ice and Fire – quit mid-way through Book 4: A Feast for Crows
4) L.B. Graham's Binding of the Blade – quit after Book 1: Beyond the Summerland
Now, please note that I'm not saying these are bad series and that you shouldn't read them. I'm just saying that somewhere through the scope of an epic fantasy series, I often decide that the time I've invested is less important than the time and effort I'd continue to invest to finish it. As the author of an epic fantasy series myself,  it seemed to demand a closer analysis. I certainly don't want my readers to drop my books mid-series! So I started looking at the reasons I ditched books that at one point I thoroughly enjoyed.
1) The words got so absurdly huge that I couldn't keep track of characters or locations
2) The stories/cast of characters got so absurdly huge and intertwined that there was very little forward momentum of the main plot in any given book
3) Certain books in the series focused exclusively on either characters I didn't like or new characters in which I had a hard time becoming invested, or they killed off the characters for which I was reading the series
4) The author's personal views became more intrusive as time went on, and I felt like I was being force-fed an ideaology with which I didn't agree and didn't entirely seem to fit with the characters as I knew them
5) The writing began to feel rushed, as if the author was turning in half-edited work and it was going to print without a second look
Food for thought, huh? But I realize that as a writer, my views may be a little skewed. So tell me, what makes you abandon a series mid-way?
(And just to balance out the overall snarky tone of this post, how about next week, we talk about the books that keep us clamoring for more and why?)